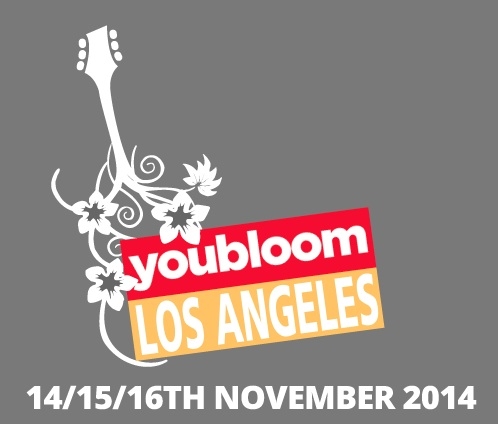 Festivals
Youbloom Festival Will Nurture New Music in Highland Park
Highland Park is having a moment. Its streets are abuzz thanks to top contenders in the foodie community (Donut Friend, Maximiliano) and an evolving creative spirit. To honor this wellspring of energy, the enclave is hosting youbloom, a global music village much like the gathering of international athletes at the Olympics, Nov. 13-15.
A cavalcade of sounds from all corners of the globe will descend upon Highland Park (as well as Pasadena and South Pasadena) for the event. Countries ranging from Brazil to Japan will be represented, and a strong home base of Los Angeles artists will add local flavor. Unlike the Olympics, youbloom is emphasizing harmony rather than competition, as bands have the opportunity to "host" other acts, sharing instruments, favorite restaurants and even a crash pad if necessary.
This sense of community has gone over tremendously in Ireland and England, where CEO Phil Harrington hatched the youbloom concept in 2009. He's since teamed with heavyweights like Bob Geldolf to help spread the word about unique, emerging bands the old-fashioned way: word of mouth via awesome concerts. The L.A. pool of performers was whittled down from more than 4,000 applicants, and these victors are set to take the stage at four intimate venues: La Cuevita, the Highland Park Ebell Club, Cafe Nela and Old Towne Pub. These shows are free.
Youbloom also aims to help developing bands navigate the often-rough waters of establishing their careers. A&R wizard Nigel Grainge; Bjork sound engineer Dave Garnish; and Rick Rubin's "Minister of Truth," Mike Bone, will be among the valuable sources speaking on the changing music industry. Entrance to the daylong conference at the Ebell on Saturday, Nov. 15 costs $25 (or $15 for students under 21).
More from Melissa Bobbitt (See All)
Music
Melissa Bobbitt
0
It's a miracle enough when a regular album flows cohesively and tells a story. But when a collection of rarities and b-sides from an artist's entire career gels like the "real" thing, it's...
Oct 22, 2012
---
Music
Melissa Bobbitt
0
You'd think from the way the gaggle of vinyl enthusiasts at Record Surplus in Santa Monica,Calif., were talking, they were war veterans. One bedraggled employee told a cluster of patrons on the hunt for prime goods...
Apr 21, 2014
---
Subscribe!
Receive updates on what's going on in live entertainment, events, and music.