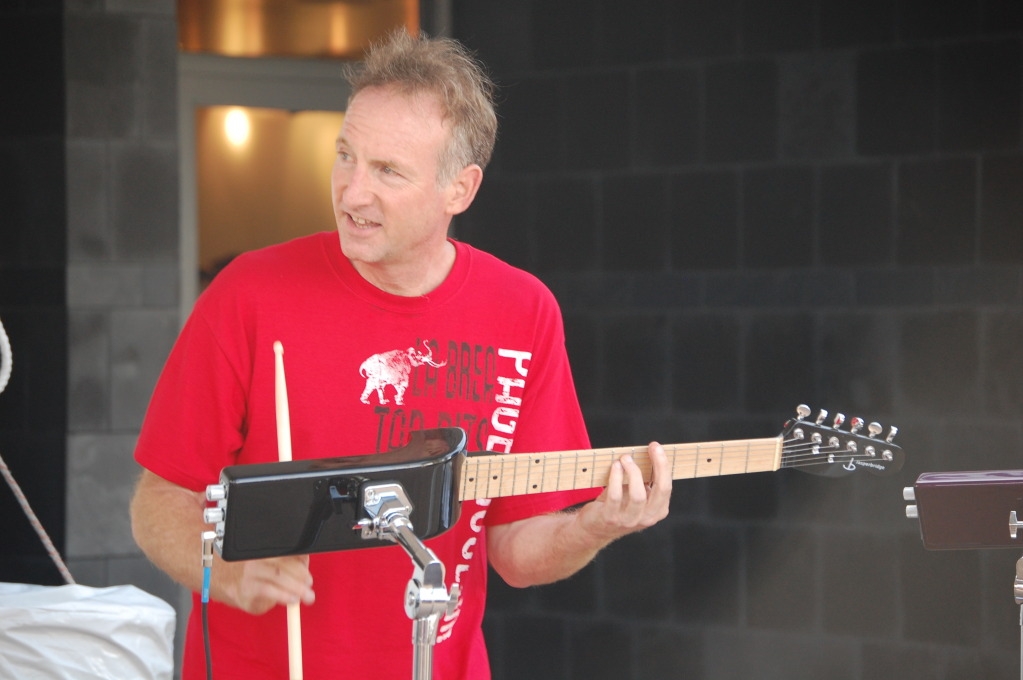 Music
Interview - Tom Shaper: Inventor of Jasperbridge
Tom Shaper, inventor of the Jaspberbridge, performs in Redondo Beach, Calif., in July 2011. Photo by Melissa Bobbitt.
As our world evolves, it becomes more imperative that we master numerous skills in order to survive. Specialization in only one sector will lead to extinction: in the workplace, in social areas and now in music. Hyphenates rule the future, and Tom Shaper's Jasperbridge percussion guitar is leading the revolution.
Taking the notion of rhythm guitar to a new level, the Jasperbridge utilizes a "reverse" body that's struck with a drumstick to create harmonic chords and progressions. The neck is the familiar part, in which standard fingerings determine the sound. The peculiar device made a splash at this year's South By Southwest convention and is often the star of Shaper's gigs with his Mature Individuals band.
We checked in with the Cleveland visionary via email about the growing interest in the Jasperbridge (named in tribute to a beloved pooch, awwww!) and how he's hoping the instrument goes global.
First off, how did you come up with the name Jasperbridge? What kind of dog was Jasper, and how long was he a part of your life? Jasper was a Golden Retriever. He was always with me. He came to the office with me. We ran errands together. He came to a lot of my jobs and sang with me (some might consider it howling) at certain venues. He was a great runner and my best friend. He was with me for 13 years. He had some health problems his last few years. I stayed home a lot with him because I wanted to. It was during this period when I came up with the concept of the Jasperbridge. I wanted to give him the credit he deserved. One of the bridges is the bridge from Jasper to me.
The process of creating the Jasperbridge took two and a half years. Could you give a basic summary of how it came to be? I do not really know how long I thought about the actual design of the Jasperbridge. I thought about different techniques for playing rhythms on a guitar and eventually the concept of the Jasperbridge surfaced. The key issues were a) would it work, b) would it be affordable, c)could the idea be protected. I knew by the third prototype that it worked. It took the next few years to get the patent and find a factory that could produce it at an affordable price. It is still a work in progress.
What was the most challenging part of building the instrument? What did your friends and fellow musicians first say when they saw and heard it? Have opinions changed since? Some people get it. Some miss the point. People often take photos or videos sometimes before I even start playing. Kids often gravitate towards it and start dancing. Most people smile when they see and hear it.
There are a number of people who have shared with me in unflattering terms their assessment of it. Often what they are missing is the fact that I have never suggested it is better than a guitar nor have I ever considered not bringing a guitar to a job. It is a fact that there are certain techniques I can employ on the Jasperbridge that cannot be done as effectively, efficiently or as musically on a guitar. I am not arguing the point that there are many things that the guitar is obviously more suited for. I love playing guitar.

I am selective about which bands I play the Jasperbridge with. It will get attention. If you are a sideman on the job and are worried it might threaten the front man, then tread lightly. I am able to get work with a duo in large part because of the Jasperbridge. We are able to play rhythm and blues and rock tunes in a manner that gets people dancing with just the Jasperbridge and a sax.
Opinions have changed as I have gotten more skillful on the Jasperbridge. I am playing it on some solo jobs and people have been requesting it.
What sort of feedback do you get from consumers, buyers, etc.? How did South By Southwest go? South By Southwest was tremendous. The Jasperbridge was played six hours a day, four days in a row. Only two strings broke, which is probably less than would have broken on a guitar. Musicians from all over the world played it. Some purchased them. Some are still considering purchasing one. My booth was always busy and the vibe was always positive. Guitar players, bass players and drummers came by and offered positive suggestions and tried different techniques. The Jasperbridge made it to Europe, Africa and Mexico so far as a result of SXSW.
You've said in interviews that Jasperbridge ought to find a market in places such as the Caribbean and Africa. What is it about these musical cultures that would embrace it? Where is the biggest demand currently coming from? Those places are very rhythmic. There are a number of different string instruments and percussion instruments utilized. The musicians often appear to be dancing, smiling and lost in the groove. I'm envious. That is where the Jasperbridge should live. That's probably where I should live.
How big of a role does the Jasperbridge play in your other projects, Mature Individuals and The Backup Band? What's the status on those bands? I use the Jasperbridge with the Mature Individuals. I have been reprimanded by a beautiful bar owner when I told her I didn't bring it. She told me that her customers want to hear it and pretty much let me know in a nice way that I was a moron for not bringing it. I have not showed up without one since then. I can't often bring the Jasperbridge out with the Back Up Band because many of the songs rely on certain leads I play, and with that band anything can break at any time.
What's your ultimate goal with the Jasperbridge? To hear music performed on it that would not have been written if the Jasperbridge didn't exist. That would be the ultimate tribute. It would illustrate that if there was no bridge from Jasper to me there never would have been certain music played. I would love to make it small. I'm talking financially and business wise. If I spend the next few years touring and giving clinics related to the Jasperbridge I will be more than satisfied.
More from Melissa Bobbitt (See All)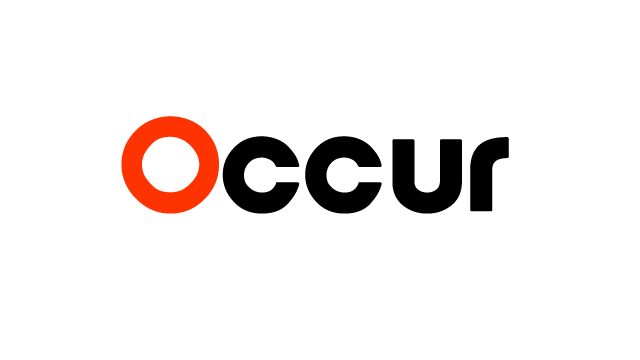 Music
Melissa Bobbitt
0
Nearing its 40th year as an independent nation, the eastern Africa port country of Djibouti is considered one of the sturdier states in the continent. However, with four-term president Ismail Omar Guelleh squelching opposition by...
Jul 17, 2016
---
Music
Melissa Bobbitt
0
You'd think from the way the gaggle of vinyl enthusiasts at Record Surplus in Santa Monica,Calif., were talking, they were war veterans. One bedraggled employee told a cluster of patrons on the hunt for prime goods...
Apr 21, 2014
---
Subscribe!
Receive updates on what's going on in live entertainment, events, and music.