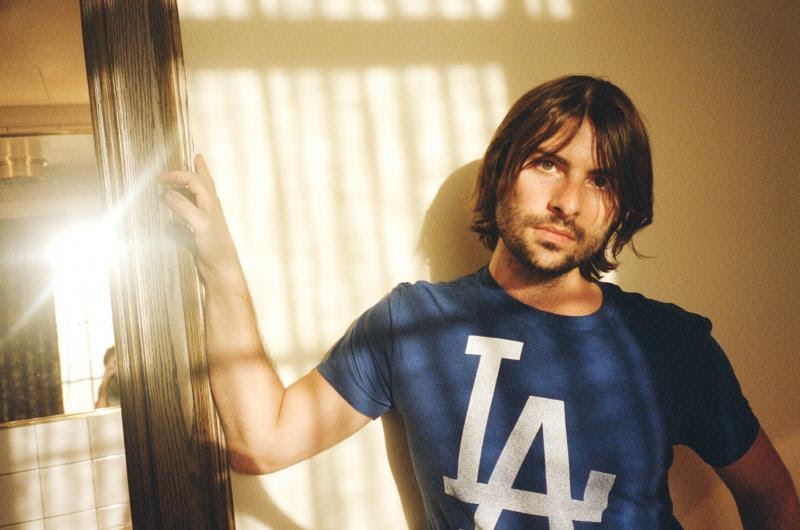 Music
Concerts
Robert Schwartzman Is on a Roll
Photo by Zoey Grossman

Pioneers used to traverse the United States in covered wagons in the name of exploration and in search of a better way of living. The Wild West lured dreamers from the East Coast to experience the great unknown due to an innate drive. Manifest Destiny ruled the day and inspired many to leave their comfort zones and start anew, no fences found.


Robert Schwartzman is a modern-day pioneer. Instead of traveling in a covered wagon, he is embarking on a nationwide tour in a bus. Big deal, you say. A member of the Coppola clan can afford a private bus to take him from venue to venue. Surely, but the former Rooney front man isn't using the vehicle as just a mode of transportation— the bus is the venue itself.


Dubbed the California Roll Tour, this unprecedented experience has been popping up in major U.S. cities since mid-September, to conclude with a two-night stand in Los Angeles Oct. 17-18. In each town, Schwartzman and his condensed crew invite aboard the bus 20 or so fans who preordered tickets (or won them via social media), and the artist rewards them with an intimate acoustic set. He takes requests, asks devotees to help him out with chorus sing-alongs and poses for pictures. It's a rare opportunity to share the spirit of music with its creator, even in this universe where one can tweet directly to their rock star heroes.


"It's a really cool feeling to play a show and meet someone who's been coming— 'Hey, I haven't seen Rooney since for the last nine years, but this is my 15th show.' Those things are huge when people tell you that. It says so much," Schwartzman told PhantEye over the phone last month ahead of the tour. "And it means so much. So, that's what I think these shows are going to represent are people who have been following songs I've written or music that I've released from my whole, since I started making music."


The ultra-intimate vibe separates the wheat from the chaff when it comes to fan loyalty. Each ticket costs around $50, and from YouTube footage, it's apparent that those attending the shows are true believers in Schwartzman's gifts. A gaggle of women helped him through a mental hiccup during a gig in D.C., in which he forgot the bridge lyrics to Rooney's "Are You Afraid?"


Guests are also treated to a limited-run physical copy of the Palo Alto soundtrack, which Schwartzman scored in partnership with the director, his cousin Gia Coppola. The soundtrack is a mostly instrumental movement with dreamy textures and kaleidoscope strains.


"I really love instrumental music," he said. "(W)hen you're writing a song (there's) some kind of unspoken pressure due to the familiarity of what songs are to people. Like, there's a chorus, there's a verse. There's certain formulaic things just built into songwriting. And sometimes when I work on an instrumental, I really don't have anything to say or sing; I just like the way it sounds."


He also noted that being a solo artist might be a little more up his alley than being in a band, which he said is "a very delicate thing when you have a lot of people wanting to be vulnerable and open up and express something… It's like a huge relationship of many people."


Schwartzman spent 13 years in Rooney. Now, the relationship is between him, his music and the awaiting listeners. That's how he's able to explore, untethered to tradition, projects like the celestial atmosphere of Starsystem; and TwentyTwo, the micro-audio app for emerging bands.


Once he gets an idea, Schwartzman is a torchbearer— he just runs with it and sees how far he can take it. When it comes to the California Roll Tour, it isn't without its flaws: The bus broke down even before the shows began, and its air conditioning bit the dust while driving through Atlanta. But the important thing is that he went for it, a pioneer all the way.


He's inspired others to give similar tours a whirl: Collaborator David Pack of Ambrosia is planning his own California Roll outing soon, and Schwartzman said he's gotten emails from a bevy of other artists congratulating him on the novel project.


As for whom he'd want to see in a bus-show setting? "… I'd go with the classics: Carole King and Burt Bacharach and Neil Sedaka… Paul Williams is a hero of mine and a friend, and I really love him as a person and a writer. It'd be fun to sit with him on a bus and roll around the city and talk with him."


You can roll around your town with Robert Schwartzman on the remaining California Roll dates (unless indicated as sold out): http://www.robertschwartzman.com/live-shows/
More from Melissa Bobbitt (See All)
Concerts
Melissa Bobbitt
0
Coachella 2012. Photo by Melissa Bobbitt. The Internet is awash with tips for having the BEST COACHELLA EVER, from noshing on superlative grub to, erm, outsmarting narcs. All are valuable resources, but if you want to...
Apr 11, 2014
---
Music
Melissa Bobbitt
0
Upon receiving word that heart-on-sleeve heavyweights Jimmy Eat World were reissuing many of their classic albums on vinyl this summer, it made us aware that the rumors behind the Great Emo Revival were true. (And...
Jun 30, 2014
---
Subscribe!
Receive updates on what's going on in live entertainment, events, and music.