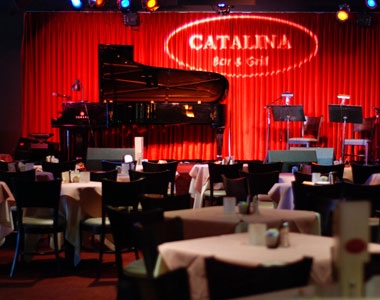 Music
Concerts
Festivals
The iLatin Jazz Mini Fest: Smooth Caribbean Sounds and Sax
Catalina Bar & Grill is known for providing "nothing but the best in jazz." This was made abundantly clear during the iLatin Jazz Mini Fest. From the superb cuisine to the impeccable musical talents of Oscar Hernández & Alma Libre, Puente del Mundo and Elio Villafranca, it was an enjoyable experience with Miles Perlich of KJazz 88.1 FM hosting the event.
Night one began with Oscar Hernández & Alma Libre taking center stage. The crowd assembled in the lavish jazz club and began to take in the dexterous Latin flavor of Hernández's renowned arrangements including the dynamic and lively "ESPN Blues" and the poignant "La Princesa." Each solo offered by Alma Libre - which is made up of Christian Moraga on congas, Walter Rodriguez on drums and Eddie Resto on bass - was exceptional, rich in texture and spirited in sound.
Oscar Hernández & Alma Libre
Hernández & Alma Libre were joined by saxophonist and flautist Bob Mintzer of the legendary Yellowjackets, which allowed for an even more incredible night filled with soulful Latin influences incorporated into jazz music. Coupled with the smells of Filet Mignon, red wine, succulent desserts and tasty drinks; and other legends in the crowd including percussionist Pete Escovedo, the night immersed in an abundance of energy and music that combined a nod of salsa notes with contemporary versatility.
Night two featured Puente del Mundo, a Panemenian jazz band that brought a unique take on classics such as Sonny Rollins' "St. Thomas," "Grazing in the Grass" by Hugh Masekela and "Speak No Evil" by Wayne Shorter, along with original vibes. Elio Villafranca took the stage to give the audience composition after composition of mastery and proficiency on the piano. His uncompromising sound was and is remarkably touching, and presents a moving dialogue between the listener and the instrument.
Puente del Mundo
Adding a dash of Afro-Carribbean syncopations, Villafranca put the finishing touches on the iLatin Jazz Mini Fest and allowed Catalina Bar & Grill to once again live up to its slogan and time-honored tradition of jazz legends such as Art Blakey, Betty Carter, Chick Corea and Dee Dee Bridgewater presenting great live jazz!
Music
News
Concerts
Kyle Jarmon
0
With a guitar and a vivacious attitude, Charlotte Sometimes owns the stage. The New Jersey native's voice is one of powerful emotion mixed with an uncanny technique of delivering lyrics that capitvate, enthrall and make...
Apr 15, 2014
---
Subscribe!
Receive updates on what's going on in live entertainment, events, and music.